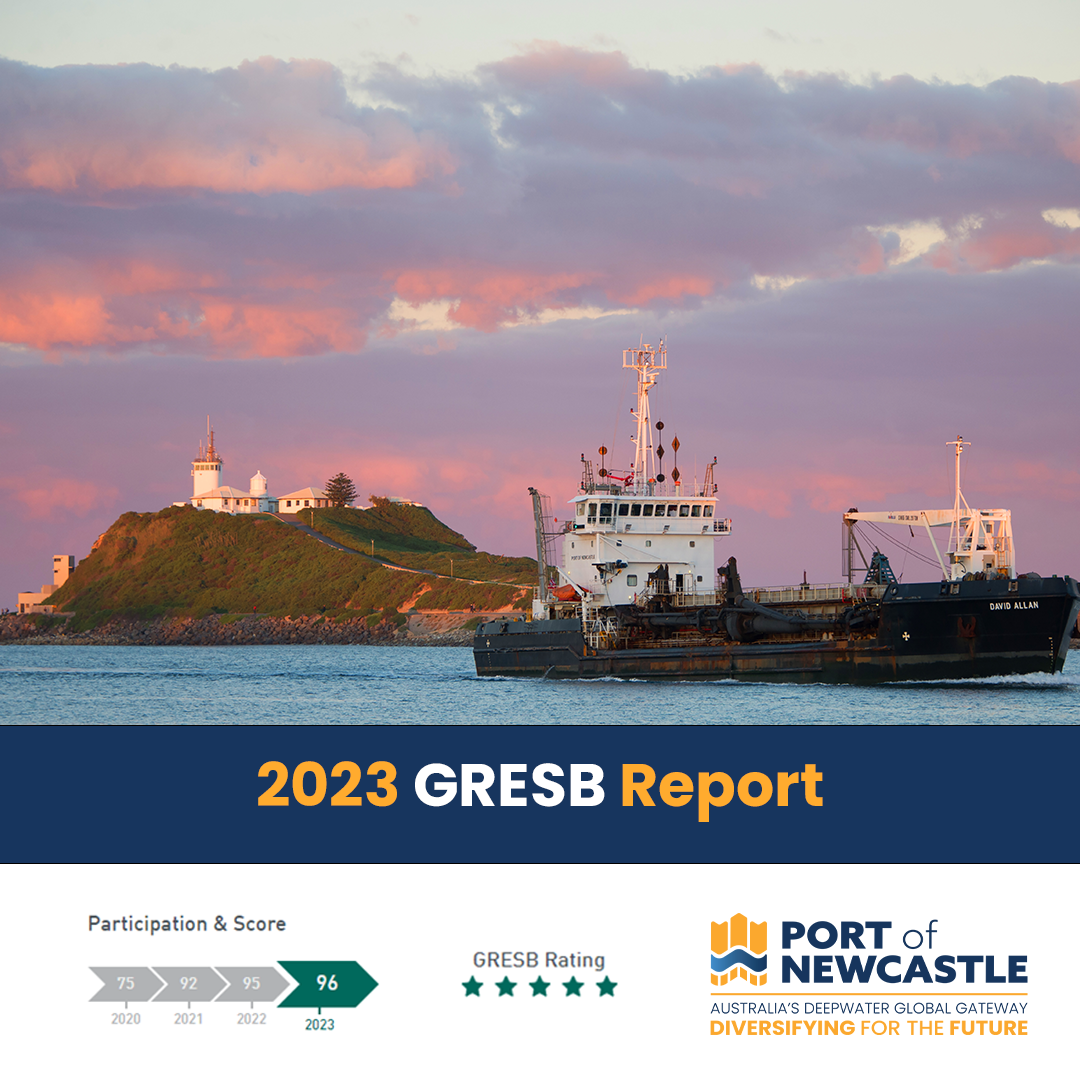 Port of Newcastle has continued its improvement trajectory, achieving its highest coveted Global Real Estate Sustainability Benchmark (GRESB) score to date and maintaining its 5-star GRESB rating for a third consecutive year.
"GRESB is a world-leading leading environmental, social and governance (ESG) benchmarking tool, which provides insight into an organisation's ESG performance over time and compared to its industry peers," said Craig Carmody, Port of Newcastle CEO.

"For the world's largest coal port to go from a GRESB score of 40 in our first assessment in 2019 to 96 in 2023 is a remarkable achievement and our continuous improvement shows that we have truly embedded ESG as a core principle across our business and our culture.
"We have been actively working to diversify our Port and to support a more sustainable future. Our Clean Energy Precinct will position us as a leading production, storage and export hub for future sustainable, clean energy products and technologies including hydrogen and green ammonia.
"Our Port now handles over 25 different types of cargoes and last year despite challenging environmental conditions we saw strong trade volumes across a number of export commodities including wheat, meals and grains exports and increased roll-on-roll-off project cargo including wind turbine components," Mr Carmody said.
Port of Newcastle Chief Financial Officer and ESG Strategy Lead, Nick Livesey, said the 5-star GRESB rating is reserved for the top 20% of surveyed companies globally, and formally recognises them as industry leaders in sustainability.
"Our diversified trade expansion and projects are supported by the work we have also completed to extend the scope of our 100% renewable power purchase agreement, complete a port-wide energy efficient lighting upgrade, renew our EcoPorts certification and switch our entire Port fleet to electric vehicles.
"Our GRESB score recognises Port of Newcastle's focused improvements in promoting a diverse and inclusive workplace as an employer of choice in the region, and our expanded delivery of health and wellbeing initiatives to support staff, including our WORK180 endorsement, flexible work arrangements and career development opportunities," Mr Livesey said.
Following continued rollout of its ESG strategy, in the last 12 months Port of Newcastle has brought its SBTI emissions reduction upgrade line with 1.5 degrees climate science, become a signatory to the United Nations Global Compact, reduced Scope 1 and Scope 2 targets, set an ambitious Scope 3 target, become a Mental Health First Aid endorsed employer, and progressed its diversification strategies including the enablement of its landmark Clean Energy Precinct.
"Our sustainability initiatives and the GRESB assessment process act as a gap analysis for the Port, enabling us to identify opportunities where we can strengthen our Environmental, Social, Governance targes and actions, and better support its ongoing implementation across the organisation," Mr Livesey said.
"This is a wonderful achievement and recognition of the dedication, collaboration and commitment of the many teams across the Port who have been working to make ESG a core part of our business and our culture in recent years."
Port of Newcastle has committed to undertaking GRESB benchmarking annually. The Port's target-driven ESG Strategy sets out its commitment to Net Zero by 2040.
"We understand the importance of ESG to our customers, shareholders and our staff and are committed to delivering strong ESG outcomes to build a sustainable and resilient Port for the future, one that continues to support local jobs and a prosperous Hunter economy," Mr Carmody said.